Introduction
 Overview
▶︎How to import GPX Files
 How to edit points
 How to import Photos
 How to put Waypoints

 Work with SRTM
 Manage Map Sources

 Q&A
 Contact

In order to import log files, drag & drop them into Track List or Map.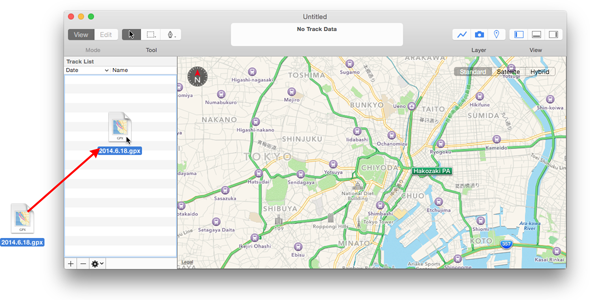 Tips:You can also use "Import…" item in "Track" menu.
If GPX Binder files contain two or more tracks, you can change Active Track by clicking a track in Track List.

Shift-Click are methods for selecting multiple contiguous tracks. ⌘-Click are methods for selecting multiple noncontiguous tracks.
If several tracks are selected on Track List, all of them are shown in Map view. But Active Track is a only one track selected first.

Note:Non-Active Tracks will be drawn as translucent line on Map view.
In order to delete tracks, press delete key on the keyboard. All selected tracks will be deleted.

Note:All tracks are imported into GPX Binder file, so original file will not be deleted if you delete tracks.

You can export tracks as GPX, KML or KMZ files in order to use by other apps.
First, select tracks which you want to export. And then, select "Export…" item in "Track" menu. You can specify file name and file format on the dialog.

Special functions for Tracks
You can use special functions from "Track" menu in menu bar.
・New Track
This function generate new empty track and add it to Track List.
・Edit Information…
This function will show a dialog for editing informations of Active Track. You can edit items below.
Name: Specify name of track.
TimeZone: Select a Time Zone where the track was recorded. The default value is a Time Zone of system.
Line Color: Specify colors for track lines on Map view. Normal means non-selected lines and Highlighted means selected lines.
Description: Description of this Track.
・Connect Selected Tracks
This function will connect selected tracks as one track.
・Duplicate Selected Tracks
This function will duplicate selected tracks.
・Open Track with Google Earth
This function will open Active Track with Google Earth. You can see the track in 3D-Map and can enjoy tour animation. For more informations, please browse manuals of Google Earth.
Copyright ©2013-2018 STUDIO-KURA All Rights Reserved.